Please read the following Terms of Use (the "Terms of Use") carefully. These Terms of Use govern your Use (as defined below) of the Times Club/Abound (as defined below) ("Abound", "Times Club", "we", "us", or "our") website and mobile application (the "Applications"), any associated Content (as defined below), material, or functionality contained on the Applications, all interactive features, applications, widgets, blogs, social networks and social network pages, and other online or wireless offerings that post a link to these Terms of Use, whether accessed via computer, mobile device or other technology or any associated content, material, or functionality contained on the Applications (collectively, the "Services" and, together with the Times Club Application and associated website, the "App"). The App, except where indicated otherwise, is the property of Times Club. By accessing, browsing, downloading, using, or registering for (collectively "Using") any Content, material, or functionality contained on the App, you acknowledge that you have read and understood these Terms of Use and that you accept and agree to be bound by them in full. If you do not agree to these Terms of Use, do not use the App, or any portion thereof. Any use of the App is at the sole risk of the user. References to "Times Club" / "Abound" shall include Times Club, Abound, and TClub Inc.
The Services
The Services constitute a technology platform accessible via the Applications that enables Times Club members to receive personalized offers, including cashbacks, concierge services and other incentives on third-party products and services.
Changes to the Terms of Use
We may update these Terms of Use from time to time and may amend them at any time to incorporate additional terms specific to additional features, applications, opportunities, or services that we may make available on or through the App. All such updates and amendments are effective immediately upon notice thereof, which we may give by any means, including, but not limited to, by posting a revised version of these Terms of Use. You should review these Terms of Use often to stay informed of changes that may affect you, as your continued use of the App signifies your continuing consent to be bound by these Terms of Use. We expressly reserve the right to make any changes to these Terms of Use, or to the App and its Content, at any time, without prior notice to you. The version of these Terms of Use posted in the Applications or at https://www.timesclub.co/terms-conditions on each respective date you use the App shall be the Terms of Use applicable to your access and use of the App on that date. Our electronically or otherwise properly stored copies of these Terms of Use shall be deemed to be the true, complete, valid, authentic, and enforceable copies of the version of the Terms of Use on each respective date you used the App.
Changes to the Referral Terms
TimesClub may suspend, cancel, terminate or modify our referral offers, including any terms and conditions and any referral functionalities at any time in our sole discretion. Referral links or codes may not function following any discontinuance of, or changes to, the associated referral offer(s). By participating in our referral program, you acknowledge and agree that it is your responsibility to review and understand the offers active at any particular time, and that you will be bound by such changes as may be made from time to time. If you do not accept any such changes, your sole and exclusive remedy is to cease participation in the program.
Access and Use
In these Terms of Use, "you" and "your" refer to (a) you, the individual accessing the App, and (b) the business entity on whose behalf an individual or electronic agent is accessing the App. You represent and agree that all information that you provide to Times Club in connection with your access to and use of the App is and shall be true, accurate, and complete, to the best of your knowledge, ability, and belief. We reserve the right to terminate these Terms of Use, or to refuse, restrict, or discontinue service or access to the App (or any portions, components, or features thereof) to you or any other person or entity, for any reason or for no reason whatsoever, at any time, without notice or liability. Failure to comply with these Terms of Use may, among other things, result in the immediate termination of your access to and use of the App and any related Services.
Times Club grants you a personal, non-exclusive, non-transferable, limited license to use the App and to view or access the App solely for your personal or internal use and subject to the condition that you do not (and do not allow any third party to) copy, modify, create a derivative work from, reverse engineer (except to the extent permitted by applicable law), reverse assemble, or otherwise attempt to discover any source code, sell, assign, sublicense, grant a security interest in, or otherwise transfer any right in or access to the App, the Services, or any other Content available via the App. You further agree neither to modify the App, or any part thereof, in any form or manner, nor to use any modified versions of the App or the Services, for any reason whatsoever, without the express written consent of Times Club. You may not attempt to gain any unauthorized access to the App or any of its associated Content, including computer systems, software, or networks. No redistribution of any Content, materials, or information contained on or offered through the Applications or the Services is permitted, unless expressly specified in a prior agreement between you and Times Club.
User Responsibility; No Unlawful or Prohibited Use
Any use or attempted use of the App: (i) for any unauthorized, fraudulent or malicious purpose; (ii) that could damage, disable, overburden, or impair any server, or the network(s) connected to any server; (iii) that could interfere with any other party's use and enjoyment of the App; (iv) to gain unauthorized access to any other accounts, computer systems or networks connected to any server or systems through hacking, password mining or any other means; (v) to access systems, data or information not intended by Times Club to be made accessible to a user; (vi) to attempt to obtain any materials or information through any means not intentionally made available by us; or (vii) for any use other than the purpose for which it was intended, is prohibited.
In addition, in connection with your use of the App, you agree you will not:
Upload or transmit any message, information, data, text, software or images, or other content that is unlawful, immoral, harmful, threatening, abusive, harassing, tortious, defamatory, vulgar, obscene, libelous, or otherwise objectionable, or that may invade another's right of privacy or publicity;

Create a false identity for the purpose of misleading others or impersonate any person or entity, including, without limitation, any Times Club representative, or falsely state or otherwise misrepresent your affiliation with a person or entity;

Upload or transmit any material that you do not have a right to reproduce, display or transmit under any law or under contractual or fiduciary relationships (such as nondisclosure agreements);

Upload files that contain viruses, Trojan horses, worms, time bombs, cancel-bots, corrupted files, or any other similar software or programs that may damage the operation of another's computer or property of another;

Delete any author attributions, legal notices or proprietary designations or labels that you upload to any communication feature;

Upload or transmit any unsolicited advertising, promotional materials, "junk mail," "spam," "chain letters," "pyramid schemes" or any other form of solicitation, commercial or otherwise;

Violate any applicable local, state, national or international law;

Upload or transmit any material that infringes any patent, trademark, service mark, trade secret, copyright or other proprietary rights of any party;

Delete or revise any material posted by any other person or entity;

Probe, scan, test the vulnerability of or breach the authentication measures of, the App or any related networks or systems;

Register, subscribe, attempt to register, attempt to subscribe, unsubscribe, or attempt to unsubscribe, any party for any products or services if you are not expressly authorized by such party to do so;

Harvest or otherwise collect information about others, including e-mail addresses, mobile numbers etc.; or

Use any robot, spider, scraper, or other automated or manual means to access the App or copy any Content or information on the App.
Times Club reserves the right to monitor the use of its services and to take whatever lawful actions it may deem appropriate in response to actual or suspected violations of the foregoing, including, without limitation, withholding cash back or the suspension or termination of a user's access and/or account. Times Club may cooperate with legal authorities and/or third parties in the investigation of any suspected or alleged crime or civil wrong. Except as may be expressly limited by the Privacy Policy, Times Club reserves the right at all times to disclose any information as Times Club deems necessary to satisfy any applicable law, regulation, legal process or governmental request, or to edit, refuse to post or to remove any information or materials, in whole or in part, in Times Club's sole discretion. You also agree to reimburse Times Club for any damage, loss, cost or expense Times Club incurs (including fees or costs of attorneys, accountants, professional advisors, and other experts incurred in connection with the defense or settlement of the foregoing) because of your use of the App for any unlawful or prohibited purpose. Times Club reserves the right to remove any user-submitted content that may be infringing on another person's intellectual property rights with or without notice to the infringer and in accordance with applicable intellectual property or other laws, including the Digital Millennium Copyright Act ("DMCA").
Any information, images, communications, or material of any type or nature that you submit to the App, or any of our pages contained on a social media platform or website by e-mail, chats, posting, messaging, uploading, downloading, or otherwise (collectively, a "Submission") is done at your own risk and without any expectation of privacy.
Proprietary Content
Times Club respects the intellectual property rights of others and expects you to do the same. We have expended substantial time, effort and funds to create the App and to collect and provide the features, materials, opportunities, and services that are available on or through the App. You understand and agree that Times Club owns, or (where required, appropriate, or applicable) has been licensed or otherwise made available to us by third parties to use, all right, title, and interest in and to the App and the features, materials, opportunities, and services made available on or through the App, and all information, text, data, computer code, music, artwork, databases, graphics, images, sound recordings, audio and visual clips, logos, software, and other materials contained therein, and the compilation, collection, design, selection, and arrangement thereof (collectively, the "Content") as well as the design, structure, selection, coordination, expression, "look and feel," and arrangement of such Content. You acknowledge that the Content constitutes valuable proprietary information that is protected by applicable intellectual property and other proprietary rights, laws, and treaties of the United States and other countries, and that you acquire no ownership interest by accessing and using the App and the Content. Such intellectual property and proprietary rights may include, but are not limited to, various patents, copyrights, trademarks and service marks, registered trademarks and service marks, trade dress protection, and trade secrets, and all such rights are and shall remain the property of Times Club or its licensors and content-providers. For the avoidance of doubt, "Content" does not include any Third Party Materials or any features, opportunities, or services made available through the Linked Materials (as defined below).
Subscriptions
From time to time, Times Club may offer you opportunities to purchase subscription-based services through the App. To purchase a subscription, you must be at least 18 years or older or at least the age of majority in the jurisdiction where you reside or from which you use the App. A valid credit card or other supported payment method is required to purchase a subscription. By subscribing, you agree that your payment method will be billed monthly, beginning on the date that you first register for subscription services unless another date is specified in the subscription services offer, in the amount specified in the subscription services offer. For avoidance of doubt, if you receive free access or a trial or evaluation period in connection with a subscription services offer, your use of the subscription services remains otherwise subject to this paragraph during the trial or evaluation period. Subscription products are nonrefundable but may be cancelled at any time by navigating to your profile page and clicking "My Subscriptions" and then clicking on the subscription that is needed to be cancelled will open up a cancellation confirmation box from where subscription can be cancelled. After that Subject to your payment of the subscription fees, your compliance with these Terms of Use, and availability of the subscription services, your subscription will enable you to access the subscription features specified in the subscription services offer. Times Club reserves the right to discontinue any subscription service at any time for any reason, either on a subscriber-by-subscriber basis or for all subscribers.
Debit Card Instructions
If you register a debit card, your transaction must be processed as a 'credit' (i.e., signature) transaction to make sure the transaction can be monitored. Do not use a Personal Identification Number (PIN) when paying for your purchases with your enrolled card if you want the transaction to be eligible for rewards or offer completion.
Card and Transaction Eligibility
Not all transactions with your registered Visa, MasterCard and American Express card are tracked by Visa, MasterCard and American Express (the 'Payment Card Networks').
Not all Visa, MasterCard, and American Express cards are eligible for registration. Visa, MasterCard, and American Express Corporate cards, Visa, MasterCard, and American Express Purchasing cards, non-reloadable prepaid cards, government-administered prepaid cards (including EBT cards), healthcare (including Health Savings Account (HSA) or Flexible Spending Account (FSA) or insurance prepaid cards, Visa Buxx, and Visa-, MasterCard-, and American Express-branded cards whose transactions are not processed through the Visa U.S.A payment system, MasterCard payment system, and/or American Express payment system are not eligible to participate.
You acknowledge that the Payment Card Networks - Visa, MasterCard, and American Express - may be unable to monitor every transaction made with your enrolled Visa, MasterCard, or American Express card, including PIN-based purchases, purchases you initiate through identification technology that substitutes for a PIN, payments made through other payment methods (such as a digital wallet or a third party payment app, where you may choose your Visa, MasterCard, or American Express card as a funding source but you do not present your card directly to the merchant), payments of existing balances, balance transfers, or transactions that are not processed or submitted through the Visa U.S.A., MasterCard, and American Express payment systems, and that these transactions are not eligible.
Disclaimer of Warranties
Times Club does not promise, covenant, represent, warrant, or guarantee that you or any other user of the App will obtain any particular or tangible result or goal through the use of the App, or obtain any other product or service in connection with use of the App. It is solely your responsibility to take appropriate precautions to ensure that any information, materials, software, or data that you submit to or through the App or Times Club, or that you access, use, download, or otherwise obtain on or through the App or Times Club, are: (a) up-to-date, accurate, complete, reliable, truthful, and suitable to and appropriate for the purpose for which they are intended; and (b) free of viruses and other disabling devices and destructive routines.
THE INFORMATION, SOFTWARE, CONTENT, SERVICES, AND MATERIALS AVAILABLE FROM OR PROVIDED ON THE SYSTEM OR VIA THE SERVICES, IS PROVIDED BY TIMES CLUB AND/OR OUR THIRD PARTY SUPPLIERS OR LICENSORS (INCLUDING PAYMENT CARD NETWORKS SUCH AS AMERICAN EXPRESS, VISA, AND MASTERCARD) ON AN "AS IS" AND "AS AVAILABLE" BASIS, WITHOUT WARRANTIES OR GUARANTIES OF ANY KIND, EITHER EXPRESSED OR IMPLIED, INCLUDING, BUT NOT LIMITED TO, THE IMPLIED WARRANTIES OF MERCHANTABILITY, TITLE, FITNESS FOR A PARTICULAR PURPOSE, AND NON-INFRINGEMENT.
TIMES CLUB AND/OR OUR THIRD PARTY SUPPLIERS OR LICENSORS (INCLUDING PAYMENT CARD NETWORKS SUCH AS AMERICAN EXPRESS, VISA, AND MASTERCARD) DO NOT REPRESENT, WARRANT OR COVENANT THAT THE SYSTEM, CONTENT OR ANY MATERIALS, PRODUCTS, OR SERVICES AVAILABLE ON OR THROUGH THE SYSTEM OR THROUGH TIMES CLUB ARE OR WILL BE ACCURATE, CURRENT, COMPLETE, FREE OF TECHNICAL AND TYPOGRAPHICAL ERRORS, RELIABLE, OR APPROPRIATE FOR ANY PARTICULAR USE TO WHICH YOU OR ANY THIRD PARTY MAY CHOOSE TO PUT THEM, THAT THEY ARE OR WILL BE AVAILABLE ON AN UNINTERRUPTED AND ERROR-FREE BASIS, THAT DEFECTS WILL BE CORRECTED, OR THAT THE SYSTEM AND THE CONTENT, MATERIALS, PRODUCTS, AND SERVICES AVAILABLE ON OR THROUGH THE SYSTEM AND THROUGH TIMES CLUB ARE FREE OF VIRUSES OR OTHER DISABLING DEVICES OR HARMFUL COMPONENTS. TIMES CLUB PERIODICALLY AMENDS, CHANGES, ADDS, DELETES, UPDATES, OR ALTERS THE SYSTEM AND THE SERVICES WITHOUT NOTICE. FURTHER, TIMES CLUB ASSUMES NO LIABILITY OR RESPONSIBILITY FOR ANY ERRORS OR OMISSIONS IN THE CONTENT OF THE SYSTEM OR THE SERVICES. TIMES CLUB SPECIFICALLY DISCLAIMS ANY DUTY TO UPDATE THE CONTENT, OR ANY OTHER INFORMATION ON THE SYSTEM.
IN USING THE APP, YOU ACCEPT THE INHERENT SECURITY IMPLICATIONS OF DATA TRANSMISSION OVER THE INTERNET AND THE WORLD WIDE WEB CANNOT ALWAYS BE GUARANTEED AS COMPLETELY SECURE. THEREFORE, YOUR USE OF THE APP WILL BE AT YOUR OWN RISK.
Limitation of Liability
IN NO EVENT SHALL TIMES CLUB OR ITS CONTRACTORS, SUPPLIERS, CONTENT-PROVIDERS, AND OTHER SIMILAR ENTITIES (INCLUDING PAYMENT CARD NETWORKS SUCH AS AMERICAN EXPRESS, VISA, AND MASTERCARD AND PAYMENT PROCESSORS), OR THE OFFICERS, DIRECTORS, EMPLOYEES, REPRESENTATIVES, AND AGENTS OF EACH OF THE FOREGOING, BE LIABLE TO YOU OR ANY OTHER THIRD PARTY FOR ANY LOSS, COST, DAMAGE, OR OTHER INJURY, WHETHER IN CONTRACT, TORT, NEGLIGENCE, STRICT LIABILITY, OR OTHERWISE, ARISING OUT OF OR IN CONNECTION WITH: (A) THE USE OF, OR RELIANCE ON, THE SYSTEM, THE CONTENT, MATERIALS, AND SERVICES ACCESSIBLE ON OR THROUGH THE SYSTEM OR THROUGH TIMES CLUB; (B) THE USE, COPYING, OR DISPLAY OF THE SYSTEM OR THE CONTENT OR THE TRANSMISSION OF INFORMATION TO OR FROM THE SYSTEM OVER THE INTERNET; (C) TIMES CLUB'S PERFORMANCE OF, OR FAILURE TO PERFORM, ITS OBLIGATIONS IN CONNECTION WITH THESE TERMS OF USE; (D) ANY DEFAMATORY, OFFENSIVE, OR ILLEGAL CONDUCT BY YOU, OTHER USERS OF THE SYSTEM, OR OTHER THIRD PARTIES; (E) YOUR PURCHASE AND USE OF ANY GOODS OR SERVICES PROVIDED BY TIMES CLUB OR ANY THIRD PARTY; OR (F) THE AVAILABILITY, RELIABILITY, ACCURACY, TIMELINESS, OR QUALITY OF ANY SERVICES OFFERED, MADE AVAILABLE, PROVIDED, OR ACCEPTED BY YOU OR ANY THIRD PARTY, IN CONNECTION WITH THE SYSTEM OR ITS USE. UNDER NO CIRCUMSTANCES SHALL TIMES CLUB, OR ITS CONTRACTORS, SUPPLIERS, CONTENT-PROVIDERS, AND OTHER SIMILAR ENTITIES (INCLUDING PAYMENT CARD NETWORKS SUCH AS AMERICAN EXPRESS, VISA, AND MASTERCARD AND PAYMENT PROCESSORS), OR THE OFFICERS, DIRECTORS, EMPLOYEES AND AGENTS OF EACH OF THE FOREGOING, BE LIABLE TO YOU OR ANY OTHER THIRD PARTY FOR ANY INDIRECT, CONSEQUENTIAL, INCIDENTAL, PUNITIVE, SPECIAL, OR SIMILAR DAMAGES OR COSTS (INCLUDING, BUT NOT LIMITED TO, LOST PROFITS OR DATA, LOSS OF GOODWILL, LOSS OF OR DAMAGE TO PROPERTY, LOSS OF USE, BUSINESS INTERRUPTION, AND CLAIMS OF THIRD PARTIES) ARISING OUT OF OR IN CONNECTION WITH THESE TERMS OF USE, THE SYSTEM, THE SERVICES, OR ANYTHING DESCRIBED IN THE FOREGOING CLAUSES (A) THROUGH (F) OF THIS PARAGRAPH, OR ANY OTHER CAUSE BEYOND THE CONTROL OF TIMES CLUB, EVEN IF TIMES CLUB WAS ADVISED, KNEW, OR SHOULD HAVE KNOWN OF THE POSSIBILITY OF SUCH DAMAGES OR COSTS. IN A JURISDICTION THAT DOES NOT ALLOW THE EXCLUSION OR LIMITATION OF LIABILITY FOR CERTAIN DAMAGES, THE AGGREGATE LIABILITY OF TIMES CLUB AND ITS CONTRACTORS, SUPPLIERS, CONTENT-PROVIDERS, AND OTHER SIMILAR ENTITIES (INCLUDING PAYMENT CARD NETWORKS AND PAYMENT PROCESSORS), AND THE OFFICERS, DIRECTORS, EMPLOYEES, REPRESENTATIVES, AND AGENTS OF EACH OF THE FOREGOING, SHALL BE LIMITED IN ACCORDANCE WITH THESE TERMS OF USE TO THE FULLEST EXTENT PERMITTED BY LAW.
Times Club reserves the right to do any of the following at any time without notice: (i) modify, suspend, or terminate operation of or access to the App, or any portion of the App, for any reason; (ii) modify or change the App, or any portion of the App, and any applicable policies or terms; and (iii) interrupt the operation of the App, or any portion of the App, as necessary to perform routine or non-routine maintenance, perform error correction, or make other changes.
Indemnification
You agree to indemnify, defend and hold Times Club and the Payment Card Networks harmless from and against all claims, demands, suits or other proceedings, and all resulting loss, damage, liability, cost, and expense (including attorneys' fees), brought by any third party in connection with or arising out of content, data, or information that you submit, post to, or transmit through the App or Times Club, your access to and use of the Content, the Applications, and other materials, products, and Services available on or through the App and Times Club, your violation of these Terms of Use, or your violation of any rights of another. We reserve, and you grant to us, the right to assume exclusive defense and control of any matter subject to indemnification by you hereunder. All rights and duties of indemnification that are set forth herein shall survive termination of these Terms of Use.
Links to Other Parties' Content
For your convenience, certain hyperlinks or features may be provided on the App that link to other applications or websites which are not under the control of Times Club (the "Linked Content"). Times Club does not endorse or sponsor any Linked Content and is not responsible for the availability, accuracy, content, or any other aspect of the Linked Content. Times Club disclaims all liability for such Linked Content, for all access to and use thereof, and for use of the links to such Linked Content. We also disclaim all liability, and make no representations or warranties, with respect to any products or services made available, sold, or provided to you by any third party. Your use of other applications or websites, and any purchases of products or services, volunteering of time or services, or making of charitable contributions through other websites, is subject to the terms and conditions of such other applications or websites. You agree that you will bring no suit or claim against Times Club, and Times Club has no obligation to participate in, arising from or based upon any such use of other applications, websites, or content contained therein (including the Linked Content). Times Club has no responsibility for information provided to third parties through the Applications, including through any Linked Content. Hyperlinks to such Linked Content on the App do not imply that: (a) Times Club is affiliated or associated with any Linked Content; (b) Times Club is legally authorized to use any trademark, trade name, logo, or copyright symbol displayed in connection with or accessible through such links; or (c) any Linked Content is authorized to use any trademark, trade name, logo, or copyright symbol of Times Club.
Disclaimer of Third Party Information
The App may contain offers for sale of merchandise or services or promotional offers not provided by Times Club. Such merchandise and services may be obtained only by linking to the applicable merchant's website in order to make the transaction. Terms of the offer shown on the App, including, but not limited to price, color, quantity, availability, and description may vary from those shown on the merchant's website. Differences in the terms of an offer between the App and a merchant's website will be governed by the terms shown on the merchant's website. Times Club is not responsible or liable for any such differences or discrepancies or the performance of any products or services obtained via such third-party website or for not-honoring of any offer by any merchant. Some features of the App, such as "cash back" rewards, are contingent upon and subject to Times Club receiving information from third parties. In the event of a dispute between you and such third party(ies) who provide certain offers for sale of merchandise or services, Times Club shall not be responsible or held liable in any manner whatsoever. Times Club also reserves the right to withhold, reverse or cancel any rewards, benefits, offers, cashbacks and such other incentives to you, in the event: (a) such rewards, benefits, offers, cashbacks and such other incentives were fraudulent, in error, illegal and/ or in violation of these Terms of Use; (b) you have violated these Terms of Use; or (c) committed fraud.
Accounts, Passwords, and Security 
Certain features or services offered on or through the App may require you to open an account (including establishing a login ID and password). You are entirely responsible for maintaining the confidentiality of your account information, including your login ID and password, and for any and all activity that occurs under your account or login ID. You agree to notify Times Club immediately upon learning of any unauthorized use of your account, login ID, or password or any other breach of security. However, you may be held liable for losses incurred by Times Club or any other user of or visitor to the App due to another person using your account, login ID, or password.
You may not use any other user's account, login ID, or password at any time without the express permission and consent of the holder of that account, login ID, or password. Times Club cannot and will not be liable for any loss or damage arising from your failure to comply with these obligations.
General
These Terms of Use (as each may be revised and amended from time to time according to their respective terms) collectively constitute the entire agreement with respect to your access to and use of the App and the Content. You agree that you shall not contest the admissibility or enforceability of Times Club's copy of these Terms of Use in connection with any action or proceeding arising out of or relating to these Terms of Use. Except as expressly provided for herein, these Terms of Use do not confer any rights, remedies, or benefits upon any person or entity other than you and Times Club. Times Club may assign its rights and duties under these Terms of Use at any time to any third party without notice. You may not assign these Terms of Use without the prior written consent of Times Club. These Terms of Use shall be binding on and inure to the benefit of the parties hereto and their respective successors and assigns.
To the extent any portion of these Terms of Use shall be determined to be unenforceable by a court of competent jurisdiction, such portion will be modified by the court solely to the extent necessary to cause such portion to be enforceable, and these Terms of Use as so modified will remain in full force and effect. Any waiver of any provisions contained in these Terms of Use by Times Club shall not be deemed to be a waiver of any other right, term, or provision of these Terms of Use. Any rights not expressly granted herein are reserved.
You agree that any violation, or threatened violation, by you of these Terms of Use, constitutes an unlawful and unfair business practice that will cause us irreparable and unquantifiable harm. You also agree that monetary damages would be inadequate for such harm and consent to our obtaining any injunctive or equitable relief that we deem necessary or appropriate. These remedies are in addition to any other remedies we may have at law or in equity.
Abound Card, Cash Management account, & Deposit account Terms Of Service
Electronic Fund Transfer Disclosure Statement
The following disclosures are made in accordance with the federal law regarding electronic payments, deposits, transfers of funds and other electronic transfers to and from your account(s). There may be limitations on account activity that restrict your ability to make electronic fund transfers. Any such limits are disclosed in the appropriate agreements governing your account.
A. Definitions: Electronic Fund Transfer: Any transfer of funds, other than a transaction originated by check, draft or similar paper instrument, that is initiated through an electronic device or computer to instruct us to debit or credit an account. Electronic Fund Transfers include such electronic transactions as direct deposits or withdrawals of funds, transfers initiated via telephone, website or mobile application. Preauthorized Electronic Fund Transfer: An Electronic Fund Transfer that you have authorized in advance to recur at substantially regular intervals; for example, direct deposits into or withdrawal of funds out of your account.
B. Your Liability: Authorized Transfers: You are liable for all Electronic Fund Transfers that you authorize, whether directly or indirectly. Unauthorized Transfers: Tell us at once if you believe your account or PIN or Access Information (as defined below) is lost or stolen or has been or may be subject to unauthorized Electronic Fund Transfers. Support message us immediately to keep your possible losses to a minimum.
You could lose all the money in your account(s). If you tell us within two (2) business days after learning of the loss or theft of your account access device, or after learning of any other unauthorized transfers from your account involving your account access device, you can lose no more than $50 if Electronic Fund Transfers are made without your permission. For these transactions, if you DO NOT tell us within two (2) business days after learning of the loss, theft or unauthorized use, and we can establish that we could have prevented the unauthorized transfer(s) if you had told us in time, you could lose as much as $500. Also, if your periodic account statement shows unauthorized transfers and you DO NOT tell us within sixty (60) days after the statement was delivered to you, you may not get back any money you lose after the sixty (60) day period if we can prove that we could have prevented the unauthorized transfer(s) if you had told us in time.
If an extenuating circumstance (such as extended travel or hospitalization) prevents you from promptly notifying us of a suspected lost or stolen access device or of any other suspected unauthorized transfer(s), the time periods specified in this Section B may be extended for a reasonable period.
Error Resolution.
In Case of Errors or Questions About Your Electronic Transfers message us in-App or email us at support@joinabound.com as soon as you can, if you think your statement or receipt is wrong or if you need more information about a transfer listed on the statement or receipt. We must hear from you within 60 days after we sent the FIRST statement on which the problem or error appeared.
Tell us your name, account number (if any), phone number, and email.

Describe the error or the transfer you are unsure about, and explain as clearly as you can why you believe it is an error or why you need more information.

Tell us the dollar amount of the suspected error.
If you tell us orally, we may require that you send us your complaint or question in writing within 10 Business Days.
We will determine whether an error occurred within 10 Business Days after we hear from you and will correct any error promptly. If we need more time, however, we make take up to 45 days to investigate your complaint or question. A provisional credit will be given to the consumer when the 45 day review period is utilized.
We will tell you the results within 3 Business Days after completing our investigation. If we decide that there was no error, we will send you a written explanation. You may ask for copies of the documents that we used in our investigation.
We will extend, by a reasonable time, the period in which notice of an error must be received, if a delay resulted from an initial attempt by you to notify the account-holding institution.
Services
If during the course of linking your External Account your profile is flagged for review by our compliance systems, you may be asked to upload documentation supporting your identity. You agree only to upload documentation that is current, accurate, and belongs to you.
Deposits into your account may take 7 business days to settle and withdrawals out of your account may take up to 5 business days to settle. During that time the funds will be unavailable for withdrawal or other use.You will be able to make six (6) free withdrawals from your Service Account to your External Account monthly. You authorize us to electronically debit and credit your designated deposit account at your designated depository financial institution via ACH and, if ever applicable, to correct erroneous debits and credits via ACH as follows:
Range of Acceptable Debit Amounts: up to $1000 per Business Day; and

Frequency of Debits: multiple times per Business Day (however, debits and credits may not necessarily occur every Business Day).
TClub Inc. reserves the right to cancel or suspend transactions due to fraud or compliance-related concerns.
Cash management accounts and related services are offered through Synapse Financial Technologies, Inc.'s affiliate, Synapse Brokerage LLC. Card services are provided by Synapse's bank partners ("Synapse Program Banks").
Securities products offered by Synapse Brokerage LLC are not FDIC insured and involve risk, including possible loss of principal. Funds held in the Synapse Brokerage LLC cash management account may be eligible for FDIC pass-through insurance (see your applicable Synapse Brokerage LLC cash management account agreement).
Cash Management services are provided by Synapse Brokerage LLC, a registered broker dealer and member SIPC. Synapse Brokerage LLC provides cash management accounts and related services that allow customers to sweep uninvested cash balances into certain FDIC-insured bank accounts at Synapse Program Banks, a list of which can be found at www.synapsefi.com/legal. Please visit the Deposit Sweep Program Disclosure Statement for important legal disclosures. Review the background of Synapse Brokerage LLC or its professionals on FINRA's BrokerCheck website. Synapse Brokerage LLC is not a bank. Use of the cash management services are subject to Synapse Brokerage LLC's terms of service, found at synapsefi.com/legal.
We reserve the right to make modifications to these Terms of Service at any time and for any reason. In the event that a change to our Terms of Service will result in an increase of fees, an increase of liability to our users, fewer types of electronic funds transfers or stricter limitations not he frequency or dollar amount of transfers, you will be notified via email 30 days before the effective date.
Jurisdiction
These Terms of Use shall be governed by, and construed and enforced in accordance with, the laws of the State of Delaware, as such laws are applied to agreements entered into and to be performed entirely within such State. If any provision of these Terms of Use shall be unlawful, void or for any reason unenforceable, then that provision shall be deemed severed from these Terms of Use and shall not affect the validity and enforceability of any remaining provisions. Except to the extent that you and Times Club have entered into a written agreement regarding the provision of services (including but not limited to transportation services, logistics services, warehouse services or any other services), these Terms of Use are the entire agreement between the parties relating to the matters contained herein and shall not be modified except in writing signed by a duly authorized officer of Times Club.
EACH PARTY WAIVES THE RIGHT TO LITIGATE IN COURT OR ARBITRATE ANY CLAIM OR DISPUTE AS A CLASS ACTION, EITHER AS A MEMBER OF A CLASS OR AS A REPRESENTATIVE, OR TO ACT AS A PRIVATE ATTORNEY GENERAL.
Contact Us
Times Club welcomes any comments or questions you may have regarding these Terms of Use or the App. Please send any comments or questions submitted 2261 Market Street, #4688 San Francisco, CA 94114 or via email at support@joinabound.com
Please check back regularly for updates and changes.
Introduction
TClub Inc. ("Abound", "Times Club" or "We" or "Us" or "Our") respects your privacy and is committed to protecting it through Our compliance with this policy. This policy describes:
The types of information we may collect or that you may provide when you download and register with, access or use, or transact with the Abound / Times Club Application or associated website, any associated content, material, or functionality contained on the Abound / Times Club Application, all interactive features, applications, widgets, blogs, social networks and social network pages, and other online or wireless offerings that post a link to this Privacy Policy, whether accessed via computer, mobile device or other technology or any associated content, material, or functionality contained on the Abound / Times Club Application (collectively, the "App"). The App is owned, developed and managed by Abound / Times Club.

Our practices for collecting, using, maintaining, processing, accessing, storing, protecting and disclosing that information.

Your rights under applicable law.
Children under the Age of 16
The App is not intended for children under 16 years of age, and we do not knowingly collect personal information from children under 16. If we learn we have collected or received personal information from a child under 16, we will delete that information. Please be aware that we may not be able to fully delete certain user information until the user cancels their subscription through their Apple account. If you believe we might have any information from or about a child under 16, please contact us at the e-mail address provided to you in Contact Information section.
Information We Collect and How We Collect It
The below chart summarizes our collection, use, and disclosure of personal information: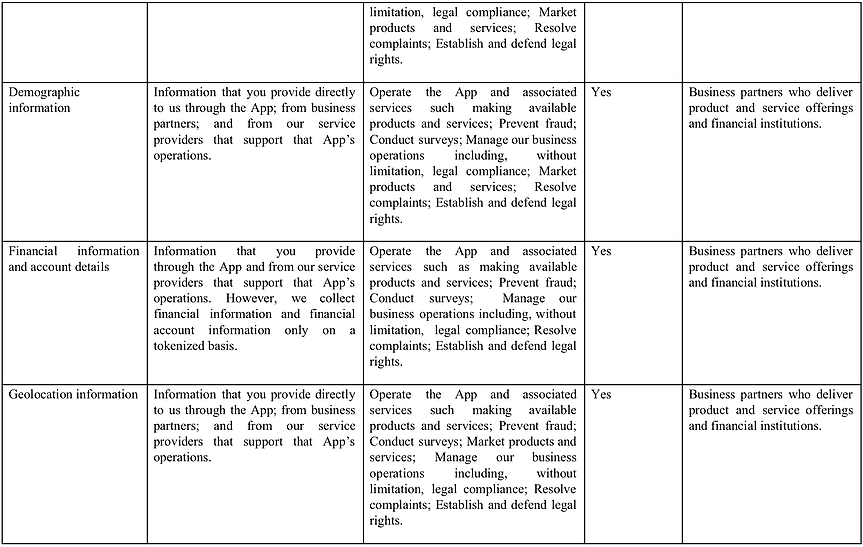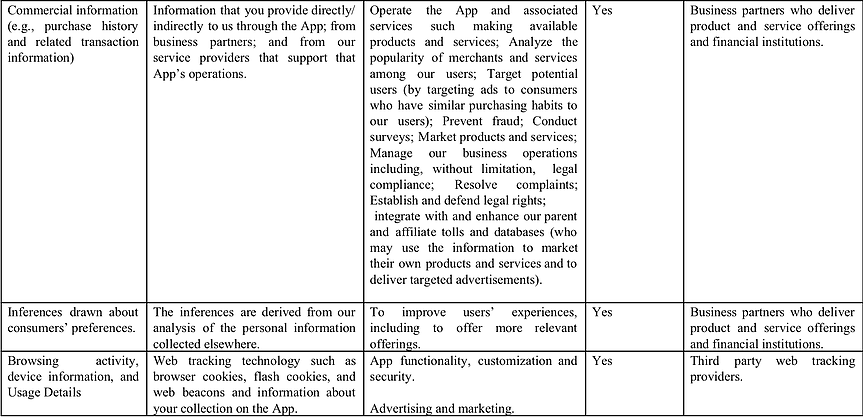 Transaction Data Specifics
The Rakuten Card Linked Offer Network ("RCLON"), is the service provider of card-linked-offer content for Times Club. Notwithstanding anything to the contrary in the Terms or Privacy Policy, we and our service providers (including RCLON will use transaction information solely as follows:
Use transaction data to confirm a qualifying purchase or return to match transactions to confirm whether you qualify for a statement credit or an offer;

Share transaction data with the participating merchant where a transaction occurred as needed for the merchant to confirm a specific transaction occurred or points should be awarded; for example, the date and amount of your purchase and the last 4 digits of your card number so the merchant can verify your purchase with its records if there is a missing or disputed transaction;

Provide participating merchants or third party service providers aggregated and anonymized information relating specifically to registered card activity solely to allow participating merchants and third party service providers to assess the results of their campaign;

Create a record of the transaction data and thereafter maintain and use data in connection with operating the Times Club program;

Conduct analysis for the improvement and optimization of the program; and

Provide information in order to respond to a request from government authority or a payment organization involved in a transaction with you or a merchant.

By registering a payment card in connection with transaction monitoring, you authorize the Rakuten Card Linked Offer Network ("RCLON") to share your payment card information with Mastercard, Visa and American Express so it knows you enrolled. You authorize Mastercard, Visa and American Express to monitor transactions on your registered card(s) to identify qualifying purchases in order to determine whether you have qualified for or earned an offer linked to your payment card, and for Mastercard, Visa and American Express to share such transaction details with RCLON to enable your card-linked offer(s) and target offers that may be of interest to you. You may opt-out of transaction monitoring on the payment card(s) you have registered by going to the profile section and tapping on the card you want to remove and then tapping the "Remove Card" button.
You authorize the sharing, exchange and use of transaction data described above and herein by and among us and our third party service providers, applicable payment card networks and applicable merchants.
Other Information Collection Technologies.
The technologies we use for automatic information collection may include:
Cookies. A cookie is a small file placed on your smartphone or browser. It may be possible to refuse to accept mobile cookies by activating the appropriate setting on your browser or smartphone. However, if you select this setting you may be unable to access certain parts of our App.

Web Beacons. Pages of the App may contain small electronic files known as web beacons (also referred to as clear gifs, pixel tags and single-pixel gifs) that permit Times Club, for example, to count users who have visited those pages and for other related app statistics (for example, recording the popularity of certain app content and verifying system and server integrity).
Third-party Information Collection
When you use the App or its content, certain third parties may use automatic information collection technologies to collect information about you or your device. Those third parties may have their own privacy practices and policies. These third parties may include but are not limited to:
Advertisers, ad networks and ad servers.

Analytics (including marketing analytics) and digital platform management companies.

Your mobile device manufacturer.

Your mobile service provider.

Plaid, Stripe, your card issuer or other financial services provider.
Other Disclosure of Your Information
In addition to the disclosures described above, we may disclose personal information that we collect or you provide:
To our affiliates, group companies, holding companies, located within and/ or outside the US, including in India. Some of our affiliates and/or group companies may offer subsidized service and other offerings to Times Club members. As disclosed above, we may integrate your personal information with other group companies' tools and databases. Those group companies may use that integrated information to enhance their marketing effectiveness and deliver targeted ads. Please find the Times Internet's, one such group company, privacy policy here.

To our licensed money transfer vendor, Stripe, in the event that you direct us to transfer funds internationally, in which case Stripe's privacy policy will apply.

To a buyer or other successor in the event of a merger, divestiture, restructuring, reorganization, dissolution or other sale or transfer of some or all of Times Club Inc.'s assets, whether as a going concern or as part of bankruptcy, liquidation or similar proceeding, in which personal information held by us about our App users is among the assets transferred.

To comply with any court order, investigation, law or legal process, including to respond to any government or regulatory request.
In order for you to make purchases through the App, service providers like Plaid and Stripe may collect and share financial and payment card account information.This information is shared with Us on a tokenized basis and with your authorization. From some of our service providers and/or business partners, we receive details about specific transactions. You can learn more about Stripe's privacy policy here, Plaid's privacy policy here, and their relationship to provide you with money transfer services here.
The App will also allow you to intentionally interact with third parties, such as those whose products or services are made available through the App. Also, our concierge offering is made available through an automated chat feature provided by Haptik, which you can learn more about here. You can read Haptik's privacy policy here. By using the concierge services, you may also correspond with You Man in India (YMII), which will have access to personal information such as your communications and commercial preferences. You can learn more about YMII's concierge services here, and find its privacy policy here.
We do not necessarily control third parties' collection or use of your information to serve interest-based advertising. However, these third parties may provide you with ways to choose not to have your information collected or used in this way. You can opt out of receiving targeted ads from members of the Network Advertising Initiative ("NAI") on the NAI's website.
Your California Privacy Rights
Data Subject Rights – California Residents
This portion of our Privacy Policy advises California residents of rights provided in the California Consumer Privacy Act ("CCPA") and how to effectuate those rights by communicating with us. Please note, we will seek to verify your identity when we receive an individual rights request from you in order to ensure the security of your personal information.
Please direct any rights requests (as further described below) or additional questions you may have regarding this Privacy Policy via email or regular mail to:
Email: support@joinabound.com
Address: 2261 Market Street, #4688 San Francisco, CA 94114
Phone number: +1 (612) 470-2151‬
If you do, we will need to collect personal information and other information such as your name, email or transaction history in order to verify your identity. You may also authorize an agent to make a request on your behalf, who will need to provide similar information for verification.
Right to Deletion of Personal Information
California residents have the right to request the deletion of personal information as prescribed in Section 1798.105(a) of the CCPA. Times Club may not delete some or all requested personal information as allowed or required by applicable law. Moreover, please be aware that we may not be able to fully delete certain user information until the user cancels their subscription through their Apple account.
Right of Access: Right to Request Disclosure of Information Collection and Sharing Practices
You may request to receive details about how we collect, use, and share your personal information. Specifically, you may request to receive the specific pieces of personal information that we have collected about you.
You may also request to receive:
the categories of personal information that we have collected about you,

the categories of personal information that we have disclosed for a business purpose,

the categories of sources from which we collected the personal information,

our purposes for collecting that personal information, and

the categories of parties with whom we share your personal information.
Right to Opt-Out of Sale
We do not, and do not intend to, sell your personal information.
Right to not be Discriminated Against for Exercising CCPA Rights
We do not discriminate against you for exercising any CCPA rights, such as the access and deletion rights described above.
Do Not Track
We treat the information of everyone who comes to our App in accordance with this Privacy Notice, regardless of their "Do Not Track" setting.
Information Security
We have implemented measures designed to secure your personal information from accidental loss and from unauthorized access, use, alteration and disclosure. Unfortunately, the transmission of information via the internet and mobile platforms is not completely secure. Although we do our best to protect your personal information, we cannot guarantee the security of your personal information transmitted through our App. Any transmission of personal information is at your own risk. We are not responsible for circumvention of any privacy settings or security measures we provide.
If you receive a suspicious email on our behalf, we suggest you do not reply to it and do not open any attachments, click on links contained in the e-mail or provide any information in response to it. You can report suspected fraud involving us by sending an e-mail to legal@joinabound.com. Please include the word "phishing" in the subject line of your e-mail and provide as much information as possible about the fraudulent activity or message. We do not send e-mails requesting a user for payment information, username or passwords. However, we may verify the user name, password etc. provided by you from time to time.
Online Account Management
If you elected to subscribe to any online services provided via the App, including the ability to access any password-protected areas of the App, you will be required to submit personal information for the purpose of verifying your identity and your authority to manage the account ("Access Credential Information"). This Access Credential Information will be used exclusively by Times Club, our agents, suppliers and third-party service providers for internal use and to respond to your service requests.
Sweepstakes, Promotions, Contests & Surveys
Through the App, you may wish to participate in certain online polls, surveys, contests, sweepstakes and other promotions that may be offered from time to time by us, a partner, or other entity. Participation in these polls, surveys, contests, sweepstakes and promotions is completely voluntary; you have a choice about whether or not to disclose information required to enter. Information requested may include data such as your name, address, date of birth, phone number, mobile phone number, e-mail address, username, and/or similar information. Through these online polls, surveys and promotions, you may choose to participate in activities such as sharing information with others and sending email invitations. In connection with any online polls, surveys, contests, sweepstakes and other promotions that may be offered from time to time via the App, we use the information you provide to administer such the polls, surveys, contests, sweepstakes and other promotions. Subject to applicable contractual or legal restrictions, we also may use the information to communicate with you, or the other people you select, about our services or products. Any information that you submit to one of our partners or another entity through the App in the course of any poll, survey, contest, sweepstakes, or promotion offered by any third party shall be fully at your own risk, and Times Club hereby disclaims all responsibility for any losses, liability, damages, or expenses that may arise from your submission of such information.
Synapse Privacy policy
Synapse is our backend software provider, and partners with financial institutions to provide FDIC insurance. Synapse's API, and its relationship with financial institutions, enable us to offer banking services and products. By agreeing to our Privacy Policy, you also agree to Synapse's policies below: https://synapsefi.com/legal
Lineage bank's Privacy notice: link
Synapse brokerage LLC privacy notice: link
Times Club's privacy notice: link
Changes to Our Privacy Policy
We may update our privacy policy from time to time. If we make material changes to how we treat our users' personal information, we will notify you by e-mail to the primary e-mail address specified in your account or an in-App alert the first time you use the App after we make the change. All such updates and amendments are effective immediately upon notice thereof. We expressly reserve the right to make any changes to this privacy policy at any time, without early or prior notice to you. The most recent version of the privacy policy is reflected by the effective date located at the bottom of this privacy policy. The version of this privacy policy posted at https://accounts.joinabound.com/privacy on each respective date you use the App shall be the privacy policy applicable to your access and use of the App on that date. Our electronically or otherwise properly stored copies of this privacy policy shall be deemed to be the true, complete, valid, authentic, and enforceable copy of the version of this privacy policy which were in force on each respective date you used the App.
Contact Information
To ask questions or comment about this privacy policy and our privacy practices, contact us at:
2261 Market Street, #4688 San Francisco, CA 94114
+1 (612) 470-2151‬